Croatian inventions and people
All right, everyone heard of Goran Ivanisevic, but did you know that the
neck tie
and the
mechanical pen
are Croatian inventions?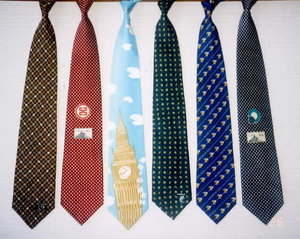 Inventions
* Croatia Report Pen Slavoljub Penkala filed for a patent for a "mechanical pencil" in 1906.
* Croatia Report KravataNeck tie, or cravat (kravata, krawate, derived from Croat), was first worn by Croatian soldiers in the European Thirty Year War (1618-1648)
* Croatia Report VinoCalifornia Zinfandel might actually trace back to Croatia
* ...
Famous people from Croatia or of Croatian origin
* Nikola Tesla, scientist and inventor, born in Croatia 1856
* Rudjer Boskovic, philosopher and scientist, born in Dubrovnik 1711
* Vladimir Prelog, Nobel prize in chemistry, 1975
* Lavoslav Ruzicka, Nobel prize in chemistry, 1939
* Andrija Mohorovicic, seismologist, 1857-1936, discovered the 'Moho' discontinuity named after him
* Ivan Mestrovic, sculptor, author of the The Bowman and The Spearman statues in Chicago
* Marco (Marko) Polo, explorer, born on the island of Korcula in 1251
* Goran Ivanisevic, tennis player, won Wimbledon Tournament in 2001 (watch video of his win!)
* Janica Kostelic, skier, won 3 gold medals and 1 silver medal in 2002 Winter Olympics in Utah, 1 gold medal and 1 silver medal in 2006 Winter Olympics in Torino, and counting...
* Iva Majoli, tennis player, won French Open Tournament in 1997
Beautiful Croatian sites about beautiful Croatian things
* Croatia Report Licitar Licitar is the uniquely Croatian souvenir cookie. A young boy giving a heart-shaped licitar to his girlfriend in order to declare his love and devotion to her is a custom deeply-rooted in the Croatian ethnic heritage.
* Skarabej is a site built in honour of anonymous people from all over the world. Inspired by the things people throw away, forget or what seems to be irrelevant, the site fetures a marvelous collection of old photographs.
* With its 1,185 islands, Croatia's coast is most diverse and breathtaking. The numerous but unique lighthouses (photo exhibition) that adorn the islands are increasingly becoming an important part of Croatian heritage.
* Have you recently broken up with your love? You feel an urge to remove or even permanently destroy everything that reminds you of this painful experience. Do not do that as you will surely regret it some time. Instead, visit the web museum of broken relationships, Brokenships, where you can store everything that reminds you of your bygone love: e-mails, photographs, SMS messages. Authored by Olinka Vistica and Drazen Grubisic from Croatia.
* Frog Museum - Lokve. Unique for Europe, this museum is entirely dedicated to frogs! It is located in Lokve, Gorski Kotar, and is easy to access from the main highway between Zagreb and Rijeka. (website is in Croatian only)
* Academia Cravatica is a non-profit institution founded on 26th March 1997 and it studies, preserves and improves the cravat as a part of Croatian and world heritage.